Sun 15 Nov 2009
If you haven't been keeping up, almost every other story that comes out of Bloomberg or some other finance news agency has a quip about US Dollar bashing and whenever everyone moves to the left side of the ship, I like to move to the right side of the ship knowing that people will have to move back to balance the ship unless the whole thing just rolls over.
Click on the graphic below for a sharper image.    I took a look at all the options volume for UUP which is the US Dollar Index and there is quite a huge open interest and volume on UUP options near or at-the-money on these options.   It looks like someone out there is placing HUGE bets that the US will rally sometime now or March 2010 while June shows modest interest.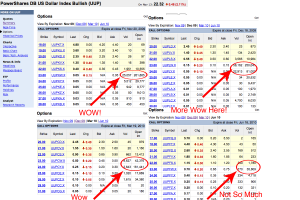 There have been many discussions that these are large firms hedging against a drop against the dollar or inversely hedging against the collapse of other currencies.  I think the latter is more likely.  I find it much more plausible that a major currency overseas will fall apart than the US dollar would in the immediate future.     China has so much over capacity that it may not be able to do much about its currency situation.  Brazil's currency has appreciated greatly but that is mostly predicated on the price of oil which is being artificially sustained.
There was a great article on the Houston Chronicle this Sunday from Exxon's CEO claiming that the price of oil and demand is out of sync and I agree wholeheartedly.
A "disconnection" exists between demand for crude oil and the current price, according to Exxon Mobil Corp. Chief Executive Officer Rex Tillerson.

Oil prices aren't reflecting demand fundamentals, just as they didn't when crude rose to a record above $147 a barrel in July 2008, Tillerson said Friday at an energy round table in Singapore as part of the Asia-Pacific Economic Cooperation meeting.

"There is clearly, and has been in my view for some time, somewhat of a disconnection in the fundamentals of supply and demand and the current day market price, and I can't really explain that to you," Tillerson said.

Tillerson said the price of oil would probably be around $55 a barrel if the dollar hadn't depreciated against the euro during the last 18 months.

"You could say oil is about $20 to $25 a barrel higher simply it's priced in dollars and there's a weak dollar," he said.
Personally, I'm anticipating a huge dollar rally and a huge drop in oil prices so I went out and bought 50 contracts on UUPCY (March 2010 $24) strikes on Friday in the attempt to speculate and profit from my prediction – it is a pure gamble.     I'm usually early to the party and I hope that isn't the case this time but we'll see what happens.