Thu 19 Apr 2007
Posted by RichSlick under Money Trades
Comments Off on Clicked Mouse, Made $1100 Today, Does Your Mutual Fund Make You Money?
I drove by a gas station this morning and saw the price of a gallon of regular for an eye popping $2.89. I expected gas prices to rise during Memorial Day for the big summer rush but not this early in the spring.
The high price of gas gave me an investment idea that I'd written about before here. I checked the market and saw an opportunity to buy in my new favorite ETF OIH after a pullback. I bought 300 shares at $152 and sold 3 contracts for May 07 $155 Strike for $3.60. This netted me a cool $1100 or 2% return in 30 days.
If I get called in May at $155, I'll make an additional $900 and bring my return up to 4% in 30 days! If I don't get called then I'll be in a position to sell July or October calls currently selling for $7 and $11, respectively.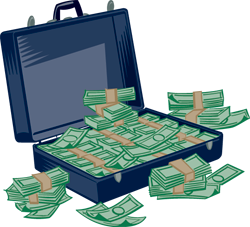 I wasn't going to write about this transaction since it's in one of my other accounts but I did mention previously that I was aiming for an entry point in OIH and now was the time to do it but I happened to do it with an outside account.
In other news, SMH jumped past $35, if this trend holds, my May calls will likely be assigned and I'll make another $750 with that money tree.   By the way, all of this cash gets immediately placed in my account for me to spend as I please; it's not sitting as "paper" gains like in some mutual fund.  Be sure to keep enough cash to pay taxes though!
Happy Hunting.
---
No Responses to " Clicked Mouse, Made $1100 Today, Does Your Mutual Fund Make You Money? "
Comments: