Mon 30 Apr 2007
Posted by RichSlick under Misc
Comments Off on Math Spam Filter Added To My Chagrin
Ever since my website started showing up on some of those top [whatever] lists, I've been inundated with more and more spam. It's gotten to the point where it's totally out of control. I've had to take some drastic measures which include:
Adding various frequent spammers IP address to an .htaccess file (to deny access)
Load Akismeti spam protector
Load Math Plugin
I'm certain this is going to inconvenient some readers because I stopped commenting on others blog sites because of the "hassle" of jumping through hoops to see my comment get posted (e.g. moderation, math equations, trackbacks, etc) but I now understand that it's a necessary evil. I simply can't browse through 300+ spam messages a day to see if any legitimate comments got posted in there vs. the grotesque spam that gets caught in the filter.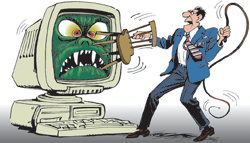 If this inconveniences anyone, I'm sorry, but less time sifting through spam filters means more time dedicated to blogging about getting rich slow/quick opportunities.