Wed 2 May 2007
Posted by RichSlick under Raves
Comments Off on Get Rich Slick One Year Old Today!
It's hard to believe that Get Rich Slick is one year old today!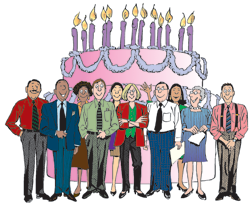 Exactly one year ago today at around 8:12 p.m. I posted my inaugural post. I never thought I'd be looking at my stats amazed at 850,000 hits over a year period; that averages out to about 2300 hits a day!
I'll quote part of my post,
This is an inaugural post- the day is May 2, 2006. I created this website in an effort to entertain and educate the sea of investors out there who thirst for a different perspective on investing and those who seek better insight into the financial world beyond the "Finance 101" blogs out there.

My goal: Grow my portfolio by 20% year over year.

My strategy: Use unique investment opportunities to grow my portfolio.
So far, I've been averaging about 18% return so I'm short of my goal of 20% but I continue to tweak my ETF Covered Call system and I have no doubt I'll reach my goal. Of course, I'm also deep into other Money Making Opportunities (MMO) such as credit card arbitrage, real estate speculation, currency hedging amongst a few other things.
I hope you continue to join me on my journey to getting rich slick.