Tue 17 Oct 2006
Posted by RichSlick under The Fed
Comments Off on Grocery Shock!
On Friday, I wrote about Dangerous Inflation because of bad wheat, tomato, and orange harvests going on in different parts of the world.  Last night, I went over to the grocery store to pick up a few items and I had sticker shock!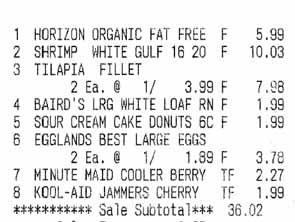 Check out the price of a gallon of milk $5.99!  I know you're thinking that I didn't have to buy "organic" milk but the reality is that this is the only real milk being sold today.  Everything else is hormone induced, chemically altered (pesticides) and/or injected with antibiotics.
The price of a loaf of bread was $1.99 and a dozen eggs came in at $1.89.
So a gallon of milk, a loaf of bread and a dozen eggs will cost you $9.87.  If you work a minimum wage job then it would take you almost 2 hours of work to buy these basic goods!
No Responses to " Grocery Shock! "
Sorry, comments for this entry are closed at this time.