Fri 27 Apr 2007
The sixth most often excuse I've heard over my professional lifetime as to why a person wasn't getting rich was the age old "I'm a victim of discrimination" gambit. I've had women tell me that they weren't getting ahead because they're women and quickly go for the grab bag round of sub-excuses:
I have to take care of my kids
I have to take care of my [insert relative here]
My husband doesn't do X for me
Oddly enough, however, I've heard nearly the exact same excuses from MEN as to why they aren't getting rich:
I need to spend more time with my kids.
I need to spend more time with my [insert relative here]
My wife needs help with all the time and is holding me back.
There are plenty more excuses from the grab bag but I think you get the point.
Women always seem to think than men have it easier because they think men get more respect or are taken more seriously than women are in the work place.
Men seem to think women have it easier because of so many affirmative action laws, harassment protection, generous leave/time off, etc.
The other aspect of the excuses are related to race, ethnicity, religion or [insert what makes you different from any one else].
I won't deny that different cultures, sects and subgroups don't have varying philosophies, attitudes, work ethics or perceptions but there really isn't a vast conspiracy to subjugate any particular group. At the end of the day, if you start off with a negative attitude, you'll perceive the world in a negative way.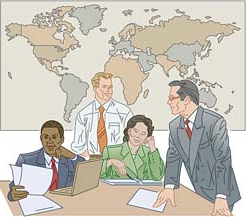 Globalization arrived over 20 years ago and it's impossible to discriminate against any particular group these days. If anything, a person that speaks a single language or that can only interact with a single culture, race, or ethnic group is at a serious DISADVANTAGE in the global marketplace.
Perhaps I've been fortunate in my career that I've worked and traveled all over the world to understand and work with different people, cultures, ethnicities, and religions that it never really phased me the way it seems to bother so many others but at the end of the day it's not really an excuse for not getting rich.
Let's take a look at a few billionaires:
Bill Gates (American)
Carlos Slim (Lebanese/Mexican)
Oprah Winfry (American/Woman)
Maria Aramburuzabala (Mexican/Woman)
Terry Gou (Taiwan)
Richard Li (Hong Kong)
Guy Laliberte (Canadian)
Mukesh Ambani (India)
Prince Alwaleed Bin Talal Alsaud (Saudi Arabia)
The names list just a few, you can get a complete list of the top 20 here. Many nationalities, ethnicities seemed to be covered and if some mass conspiracy existed the names on the list would be radically different wouldn't they?
Speaking of conspiracies, I'm conspiring to get rich slick using a two pronged patent pending method: Get Rich Slow using traditional methods of wealth building: savings, 401k, Roth, Real Estate and a second method: Get Rich Quick using more aggressive methods of building wealth: real estate speculation, options & currency hedging and my favorite ETFCoveredCalls.com. Stop making excuses and click on over to learn how I'm Getting Rich Slick.
Web-in next week to here excuse #5 – I didn't graduate from Ivy League School.
One Response to " Top 10 Excuses Why You Aren't Getting Rich – #6 I wasn't born the right gender or color "
Trackbacks & Pingbacks: